2023 UHI Business Competition open for entries
Aspiring entrepreneurs are invited to apply to the 2023 UHI Business Competition which has £8,000 in prize money up for grabs.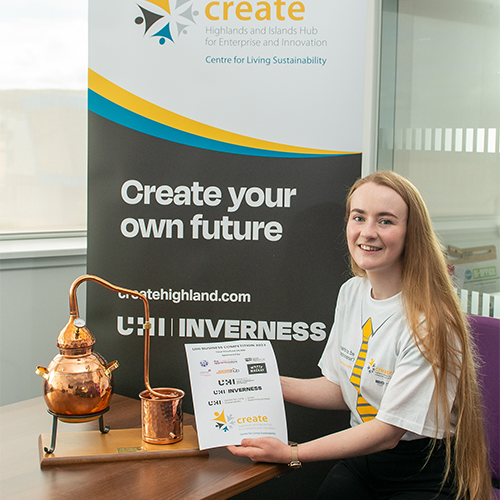 The competition is now open for entries from anyone over 16 living in the Highlands and Islands, Moray, Argyll and Perthshire, as well as all students studying across the UHI partnership.
Now in its 17th year, the competition enables people with enterprising ideas to take their first steps on the road to starting their own business. All finalists receive feedback and support from some of the region's top entrepreneurs and business advisors.
The competition has attracted a total of 1,649 entries since its inception in 2006. The prize money total will pass the £100,000 milestone when the 2023 winners are presented with their awards in May.
The top prize in the 2022 competition went to Ciara Bow (23), founder of Gledfield Distillery, who impressed the judges with her passion to bring craft distilling back to Sutherland with her family's age-old botanical spirit recipe. Ciara was inspired by her great, great grandmother – one of Ardgay's last illicit distillers in the 1800s.
Ciara won £1,000 and a combined legal and accountancy package, sponsored by Johnston Carmichael and Harper Macleod. She also won £500 for the Best Presentation Award.
Ciara said: "Winning this competition was a huge milestone for me. It gave me confirmation that my wee dream might someday become a reality, because someone else – the competition judges – believed in me and my idea. I entered the competition looking for feedback, never in my wildest dreams was winning the competition a consideration, but it just goes to show that anyone with an idea can turn it into a success!
"Since winning the competition, so many doors have opened ­­– networking opportunities, business development opportunities, offers of support and encouragement. It has brought my idea to life, and I have gone a long way in taking strides to achieving my goals. My business, Gledfield Distillery is in the exciting stage of finalising recipe development, and I'm really looking forward to sharing the results."
The competition is run by CREATE, the Highlands and Islands hub for Enterprise and Innovation based in the Centre for Living Sustainability at UHI Inverness. CREATE aims to inspire and support staff, students, graduates and businesses to develop enterprising behaviours and skills for life, work and self-employment.
Professor Vicky Johnson, Director of the Centre for Living Sustainability, said: "Our communities need talented people who are willing to apply their ambition and imagination to develop their commercial ventures, particularly as we continue to recover from the pandemic and face the financial pressures of the cost-of-living crisis. The UHI partnership has a key role to play in encouraging and enabling environmentally and socially sound entrepreneurship. The purpose of our business competition is to foster an innovative and resourceful mindset that enables people to achieve their potential and realise their ideas. This competition changes people's lives by providing them with the confidence and support to start their own businesses."
The closing date for entries is noon on Tuesday, 18 April 2023. Entries will be shortlisted to 15 and finalists will be invited to meet the competition judges to discuss their ideas further on finals day on Wednesday, 24 May.
Aleksandra Czech-Seklecka and Mariusz Seklecki from Inverness were 2022 finalists and won a £500 prize for the Best Researched Award.
Their idea is an app which helps businesses reduce transport costs and carbon footprints in a quick and easy way. It connects businesses with transport providers who are running empty or partially empty trucks and vans and allows them to use that space efficiently.
Aleksandra said: "Winning an award in this competition gave me inspiration and strength to move forward with my business idea. I received great feedback and support from judges and organisers, which gave me extra motivation to make things happen.
"I received a great amount of knowledge and tips which helped me to move forward with my business idea. Even after this competition I still have support from the organisers who helped me to be accepted to the Pathfinder Accelerator Programme and Catalyst Programme. I would encourage people to enter this year's competition because it is a great opportunity to learn and receive feedback from professionals in various domains. It is the perfect first step in transforming your idea into a business."
Once again there will be special cash prizes for the best engineering ideas, with these awards sponsored by the Engineers in Business Fellowship, a charity that promotes the importance and value of business education for engineers.
David Falzani MBE, President of Engineers in Business Fellowship, said: "We are proud to support UHI with a prize fund again this year, particularly as engineering students report that these competitions are not just about winning a prize, but also about the knowledge, experience, and confidence they gain from taking part. The UHI Business Competition appeals to such a wide and diverse audience and it's inspiring to see the amount of talent and creativity that emerges in their innovations. We look forward to hearing about the new winners, who will also be able to compete in our EIB Champion of Champions national competition. We've had the pleasure of UHI students entering in the past and they are always lively and thought-provoking participants."
A new sponsor for this year's competition is beverage company Whyte and Mackay.
Shane Healy, Distilling Director of Whyte and Mackay and a competition panel judge, said: "Whyte and Mackay are delighted to be involved as a sponsor for the UHI Business Competition. We have distilleries across the north of Scotland ­– The Dalmore, Fettercairn, Invergordon, Jura and Tamnavulin ­– in the areas of the UHI campuses and research institutions. We have a shared ambition to bring prosperity to the Highlands and Islands and this competition gives an opportunity to people with ideas to make a real difference in our communities. We look forward to many people entering the 2023 competition and to hearing the newest great ideas that will make a positive difference to the Highlands and Islands, and further afield."
The UHI Business Competition is organised by strategic partners CREATE, UHI and UHI Inverness, with additional funding and support from The Apprentice Store, Engineers in Business Fellowship, Harper Macleod LLP, Johnston Carmichael, the Northern Innovation Hub and Whyte and Mackay.
Apply online at https://www.createhighland.com/learners/competitions.aspx by noon on 18 April 2023