Pursuing her dream sees archaeology student named Orkney College UHI Student of the Year 2022
A young Italian archaeology student has been named Orkney College UHI Student of the Year 2022 after going the extra mile both academically and personally.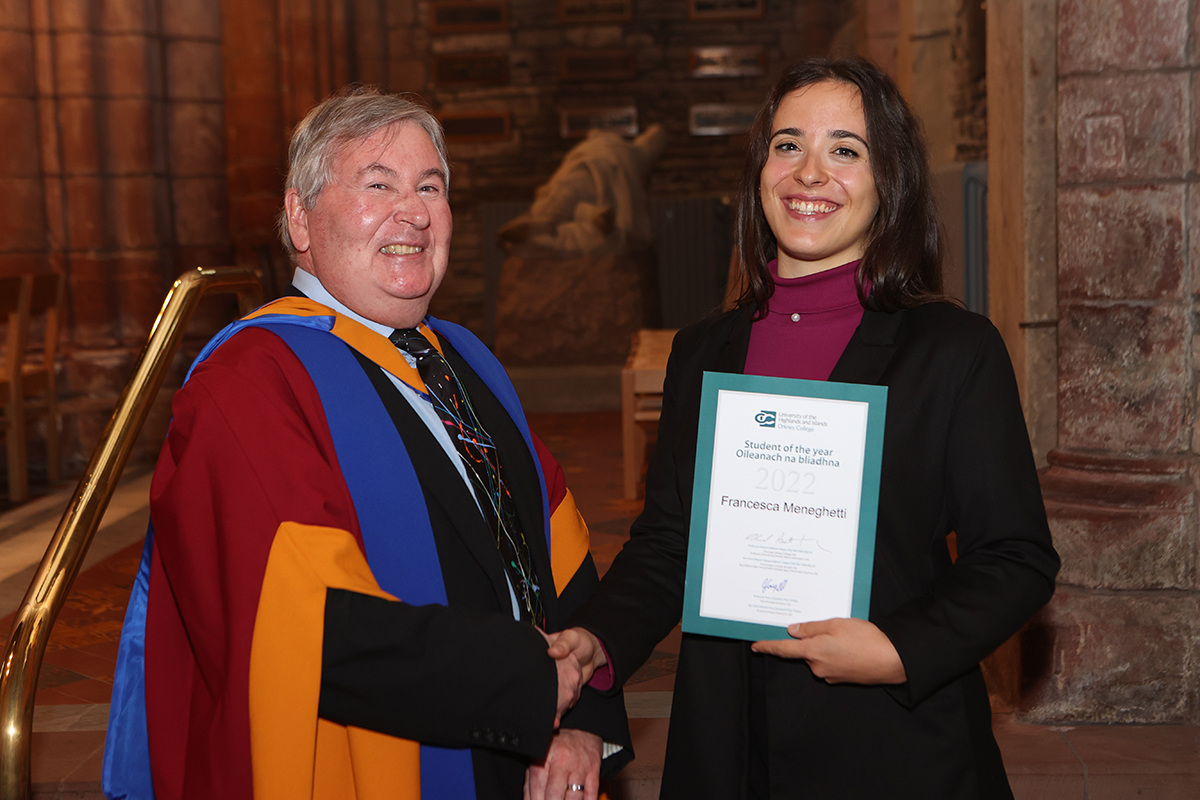 Chosen from a pool of strong nominations, Francesca Meneghetti, received the prestigious award in recognition of her academic excellence and her devotion to the wider student community.
Originally from Italy, Francesca moved to Orkney at just 18 to pursue her dream of studying archaeology and has described her journey as "life-changing".
Francesca was nominated for the award by her personal academic tutor, Dr Ragnhild Ljosland.
Ragnhild said: "Francesca has distinguished herself academically by contributing to the student community, by overcoming personal hardship, and going the extra mile outside of the curriculum to learn more. Francesca is a star student who works extremely hard and has achieved excellent results all round. This she has achieved while working in a foreign language.
"Francesca actively seeks out extra learning on top of the college curriculum. This summer, she grasped the opportunity to apply for funding from the UHI Student Development Fund to attend an academic conference in Germany (9th International Symposium on Runes and Runic Inscriptions). This conference is aimed at researchers working professionally with rune inscribed artefacts and is thus aimed above the level of a L9 student, but Francesca did not let this put her off and attended all the presentations at the conference with great interest. She has also made contact with academic staff from other universities to gauge for further opportunities to gain experience in practical archaeological excavation.
"She was very brave to come to Orkney to study archaeology, not only moving away from her family to live independently for the first time but doing so in a foreign country and language. However, in her first year of study the pandemic struck, leaving students isolated at home. For Francesca, the consequences of the pandemic were extra tough, because it meant she was now cut off from her parents and family for over a year and with ongoing uncertainty around how long this situation would last. Living independently for the first time is a big undertaking for any 18-year-old but doing so in a foreign country with borders closed for an unspecified foreseeable future is very tough. Naturally it hit Francesca hard, but she was able to seek support and nonetheless continue with her studies against the odds, achieving excellent results.
"In 2020, Francesca was elected by fellow students as the Highlands & Islands Student Association (HISA) depute for Orkney College, a role which she has continued to fulfil with great enthusiasm. She is always on the lookout for ways to enhance the student experience at our college and works tirelessly for the student community. Among other things, she has been a champion for student mental health and student housing."
Francesca, who has just begun the fourth year of her degree with the UHI Archaeology Institute, described becoming part of Orkney College UHI as "life-changing" and among the hardest and yet most natural processes she has undertaken.
She added: After being highly discouraged from studying archaeology back in Italy, I took my chance and moved abroad to pursue my dream. I came to Orkney straight out of high school at 18, and I did so out of pure intuition and hope, without allowing much logical reasoning to come in my way. The Scotland I knew was the one I had seen in movies and heard songs about and appeared to me as a land of promises and opportunities, a place I could call home. Looking back on my approach to this kind of decision-making, I would say that whilst not being the most reliable, it enabled me to dare to shape my future with intention and trust in myself.
"I came to Orkney UHI without many expectations of my performance as a student here, in order not to be heartbroken in case I would not make it. I did not unpack my suitcase for the first four weeks on the island, ready to go back home. Unexpectedly, feeling significant pressure in not wanting to fail those who had invested their time and resources in me, I rediscovered my strength 2500 km away from family and friends, and took refuge in studying. I fell in love with articles and books I would be reading for my courses, and slowly started finding myself the happiest I had ever been up at night, reading and writing essays.
"My immense gratitude goes to the entirety of the Archaeology Department for enabling this, as well as the wider UHI Orkney staff. Here, I found an outstanding receptiveness to one's passion and motivation for studying, making me feel welcome and valued. Being able to witness the enthusiasm of lecturers talking about their fields of expertise and their willingness to fully engage with students, made me regularly rejoice in the daily challenges and achievements.
"This brings me to today, as I read an email telling me that I have been awarded Student of the Year at Orkney College UHI. I am grateful as I look back at the funny, stressful, sad, and joyful moments I have shared with staff and friends at the College as they all come together. I can now look back at my experience so far and feel proud of my choices and dedication. My gratitude goes to the Archaeology Department, to The Highlands & Islands Student Association (HISA), to my friends Alannah, Emily, Sara, Maria, Yashodhara, Amalie, Duncan, and many more, who contribute fundamentally to shaping who I am. This award reassures me as I enter the fourth year of my UG Archaeology Degree, and further motivates me to never stop exploring the possibilities around me."
Orkney College UHI Principal, Edward Abbott-Halpin congratulated Francesca and presented her certificate at the Orkney College UHI Graduation and Awards ceremony on 30 September 2022.
He said: "I am delighted that Francesca has been chosen as Student of the Year at Orkney College. I am aware of the hardships she has faced as a student, and her excellent performance in her studies, but also of her commitment to the student body as a whole in supporting them and in her work on behalf of the Highlands and Islands Student Association which has brought me into direct contact with her. Her diligence and commitment have been exemplary, and I can only add my own congratulations to her for achieving this success – congratulations from all of us at Orkney College UHI!"
Francesca was also awarded a £100 cash prize.
Each academic year, Orkney College UHI also runs a special award scheme, which celebrates the achievements of outstanding students within specific departments at the college. These were awarded alongside the Student of the Year Award at the Annual Graduation and Awards Ceremony.
This year's winners can be viewed in the table below:
| Award Name | Awarded to | Sponsored by |
| --- | --- | --- |
| Orkney College UHI Student of the Year 2022 | Francesca Meneghetti | Orkney College UHI |
| Judith Robertson Memorial Prize (Orkney Archaeology) | Kathrine Page | Orkney Archaeology Society |
| Best Performance in Undergraduate Archaeology student | Sara Marinoni | Andre Artymiuk |
| Best Undergraduate Archaeology student dissertation | Susan Dyke | Andre Artymiuk |
| Best Performance in Postgraduate Archaeology student | Adam Markham | UHI Archaeology Institute |
| Best Postgraduate Archaeology student dissertation | Cameron Taylor | UHI Archaeology Institute |
| Freya Rose Dalrymple Memorial Award | Mia Train | Art Dept |
| The Pier Arts Centre Award for HE Art & Design Student of the Year | Jamilla Garrett | Pier Arts Centre |
| Soulisquoy Mal Cowtan Award for experimental print | Louise Fraser | Soulisquoy Printmakers |
| Part Time Business Student of the Year FE | Nataliia Kuzmina | Business Dept Orkney College |
| Full Time Business Student of the Year FE | Terri-Jane White | Business Dept Orkney College |
| Full Time Business Student of the Year HE | Rhona Cogle | Business Dept Orkney College |
| IT Student of the Year | Gary Scollay | Computer Science Dept Orkney College |
| Bricklaying Apprentice of the Year Award | Matthew Murray | Orkney Construction Training Group |
| Carpentry & Joinery Apprentice Award | Conor Coburn | Orkney Housing Association Ltd |
| Best Graduating Student (Culture and Heritage) | Sanne de Koeijer | Orkney College UHI Culture and Heritage Dept |
| Best Interdiscliplinary Project/Dissertation | Sanne de Koeijer | Orkney College UHI Culture and Heritage Dept |
| Industry Award for Hospitality Student of the Year | Campbell Nicholson | Sands Hotel |
| Best National Certificate in Professional Cookery | Eilidh Tullock | Hospitlaity Dept |
| Best Professional Cookery at SCQF Level 5 | Frances Bodley-Scott | Hospitality Dept |
| Best professional Cookery at SCQF Level 6 | Ahmi Santiago | Sheila Fleet |
| Best National Certificate in Hairdressing Level 5 | Katy Liddle | Hairdressing Dept |
| Best National Certificate in Hairdressing Level 6 | Amber Todd | Hairdressing Dept |
| Gaelic Legacy Prize Margaret MacGregor Memorial Award | Rebecca Richmond | Institute for Northern Studies Anne Artymiuk |
| Best student dissertation (UHI Institute for Northern Studies) | Kevin Fylan | Institute for Northern Studies |
| Best student dissertation (UHI Institute for Northern Studies) | Alastair Howden | Institute for Northern Studies |