Student Representation
At Orkney College UHI all students are encouraged to have their say in the activities of the College. The student voice is important in ensuring that our students get the most from their time here with us in both learning and their experiences of the College as a whole.
Student Representative Group
Orkney College UHI has a Student Representative group which meets regularly throughout the year. At the beginning of each academic year students are elected from each course to represent the views of their class. The group meets regularly with College staff to discuss what is happening around the College and any issues they wish to raise. The Student Representatives then communicate this information, and actions taken, to their class. Student Representatives are trained to do this role and gain skills and experience that are valued by employers.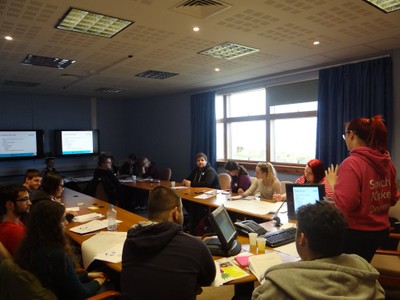 College Committees
Orkney College UHI has a range of committees that student representatives are invited to sit on and allows the students to provide their views on College matters. Committees include Access and Inclusion, Public Relations, Physical Resources, Learning, Teaching and Quality, College Management and Research. Attending Committee meetings can also be a great addition to any CV.
The Highlands and Islands Students' Association
The Highlands and Islands Students' Association (HISA) represents the interests of all students across the University of the Highlands and Islands and aims to enhance your learning and social experience. HISA does this by representing your needs on committees at Orkney College UHI and making sure your voice influences decisions on university committees. HISA also helps to organise social activities for students.
As a student you are entitled to stand for election and vote in HISA elections, be a member of a HISA affiliated club or society and take part in a wide range of activities.
See The Highlands and Islands Students' Association (HISA) site.

To find out more about student engagement and representation in Scotland visit SPARQS - Student Partnerships in Quality Scotland or visit NUS Scotland - the National Union of college and university students' associations.