Hospitality
content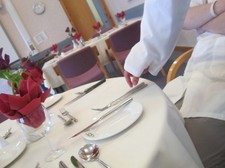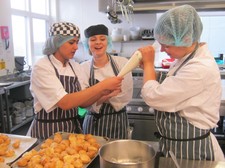 In Orkney the islands produce superior food and drink products. Students in the Hospitality Department learn how to prepare and serve these products to a high standard.
Staff deliver courses in a range of subjects and disciplines from school pupils on a part time basis, full time for school leavers and adults plus industry day release. There are also a wide range of short courses available from craft cake decorating to food hygiene, customer care and the new WorldHost.
Customised courses can also be developed to suit industry needs.
Levels of course range from Skills for Work at Intermediate 1 to the BA (Hons) Tourism and Hospitality Management. Full, part time or day release options are available.
The department comprises of two kitchens fully equipped for all subject areas, a classroom which doubles up as a Training Café and a Training Restaurant. Both the Café and Restaurant are open to the public during term time.
For more information about the Overblikk Restaurant please visit the Overblikk page.
For more information about Coffee at the Blikk please visit the Coffee at the Blikk page.
For further information about our courses, please visit the courses section of the website.