Overblikk Restaurant
content
The Overblikk Restaurant is situated within Orkney College, East Road, Kirkwall. Our premises are spacious and bright with panoramic views over Kirkwall Bay.
All meals cost £13 per head
Times of Opening
Lunch Table Service 12:30pm - 1:00pm
Counter Service 12.00-1.15pm
As this is a Training Restaurant, we operate a "bookings only" system.
The restaurant no longer has a licence to sell alcohol however if you wish to bring your own wine we will be happy to serve it for you.
We reserve the right to cancel the restaurant if there is severe weather or student absence.
Please be aware there may be a charge if a table cancels or alters within 24 hours and we are unable to fill the space
Bookings
We recommend that you book early to avoid disappointment.
Lunch bookings can be taken at these times:
Monday & Wednesday 8:30am – 9.00pm
Tuesday, Thursday, Friday 8:30am – 5.00pm
Telephone: 01856 569000
Email: orkney.college@uhi.ac.uk
Please indicate clearly:
Date of booking.
Time of arrival.
12:30pm or 12:45pm or 1pm.
Number of places required.
Contact telephone number.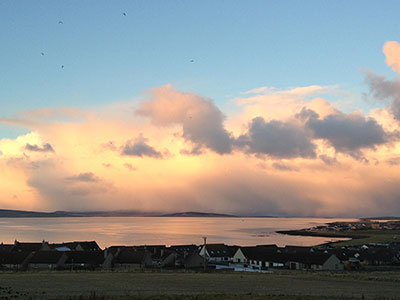 Please also make us aware of any food allergens.
We welcome block bookings and will accommodate your special requirements where possible.
Please let us know how you enjoyed your experience at the Overblikk Restaurant.