Fire Prevention and Fire Fighting (STCW)
content
This 3-day course is the mandatory minimum requirement for basic fire safety training for all seafarers. All three days are carried out at Kirkwall Airport. It is essential that you take along photographic ID as this will be needed to get through airport security.
This should be completed prior to employment on seagoing Merchant ships. All trainees must be in good health. This course is also a requirement for the EDH course.
Course content
On meeting the minimum standard of competence of this course, candidates will be able to take appropriate measures for the safety of personnel, of the ship and to use appliances correctly. They will also have knowledge of Fire Prevention on board ship.
The course is divided into three sections:
Day 1 Theory session
Fire Theory, causes and classification of fires
Fire prevention
Equipment available on board vessels
Shipboard fire-fighting, drills and procedures
Shipboard construction
Day 2 and 3 Practical
Extinguishers
BA competency and use in drills
Safe Movement in Smoke and heat
Search and Rescue techniques
Extinguish small and extensive fires using various mediums
Team rescues in BA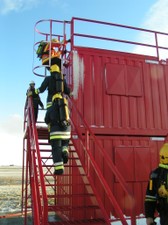 content
Health Requirements: It is the students own responsibility to meet physical requirements of the practical course, and should be at ENG1 or ML5 standard. The college does not accept financial liability if students are unable to complete the course.
Misconduct: Those persons under the influence of alcohol or drugs will be refused entrance to practical sessions and will not be refunded.
Cancellations due to low temperatures and adverse weather: As this course is run on a working Airport, courses may not go ahead if temperatures become too low or if there is an emergency at the Airport. If courses are cancelled students will be allocated the next available place.
Illness: Any persons who become ill should make staff aware, and may be offered another place at a later date without charge.
Lunch: A packed lunch will be provided on day 2 & 3, to enable staff & students to remain at training site adjacent to the runway. Please make us aware if you have any special dietary requirements.
Qualification
STCW Fire Prevention and Fire Fighting (Section A V1/1 -2 OF STCW 95)