Modern Apprenticeships
content
Modern Apprenticeships (MAs) give anyone over the age of 16 the opportunity to gain a recognised qualification and fine-tune their skills whilst in full-time employment.
The only requirement for accessing an MA is that the student must be in employment and that their employer is happy for the student to attend college from time to time. This could be Orkney College UHI or depending on the course of study students are occasionally required to attend colleges on the UK Mainland. There is currently no charge to apprentices or employers when working towards an MA through Orkney College. All course fees are covered by a contribution from Skills Development Scotland (SDS) with any shortfall being met by Orkney College UHI. Whilst attending college for off the job training, all travel costs are reimbursed by SDS as well as a contribution of £35 per night towards the cost of accommodation.
There is a range of qualification available at S/NVQ level 2 and 3. The courses offered at Orkney College UHI are Administration, Agriculture, Bricklaying, Carpentry & Joinery, Health Care Non-Clinical, Hospitality Supervision & Leadership, Professional Cookery, and Social Services, Social Services Children & Young People and Wood Machining.
The benefit of completing an MA is that it is a recognised qualification that shows a person is a competent worker within their chosen field of work, which is beneficial to current and future employers. Achieving an MA Certificate can also lead to the possibility of promotion and or a pay rise.
Accessing an MA course can be done by contacting your local SDS branch or you can contact us at Orkney College and speak with our Training and Employment Officer. If you're already in employment and would like further training then ask your employer about getting on the programme.
NB: anyone interested in Bricklaying, Carpentry & Joinery or Wood Machining should contact SDS or CITB.
Case study - Sandy Morris content
Case study - Sandy Morris
Case study - Sandy Morris
MA Level 2 - Sport, Active Leisure & Operational Services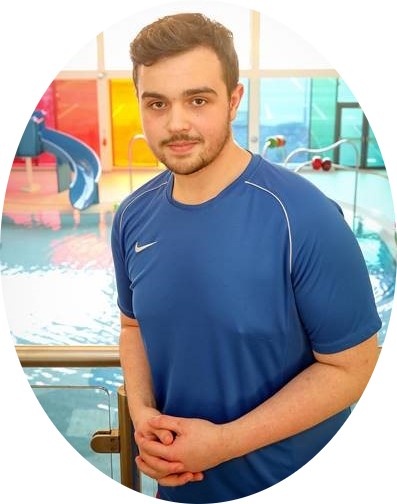 Sandy Morris is the youngest of five siblings and has lived in Kirkwall all of his life. As a young child, Sandy attended Papdale Primary School before moving on to complete his secondary education at Kirkwall Grammar School. Although, whilst attending Kirkwall Grammar, Sandy liked doing Maths and Art, he was soon to realise that school was not where he wanted to be. Sandy stuck with it, his attendance was good and he continued through to fourth year. In his spare time, Sandy likes to swim, go to the gym and play guitar.
When Sandy was very young, his older brother was a lifeguard at the local swimming school. Sandy looked up to, and admired, his brother, so thought that being a lifeguard would be a 'cool job'. Despite this, Sandy went through secondary school not really knowing what he wanted to do for a living. After leaving school, Sandy started on a Digital Media course at Orkney College, but on realising that his interest in computers and gaming was not enough to sustain his interest in the college course; he left to spend some time at the Connect Project.
Sandy's next step was to join Skills Development Scotland Employability Fund at Stage 3. This was again at Orkney College and Sandy spent a number of weeks on work placement with various companies around Orkney whilst undertaking his Lifeguard Training at The Pickaquoy Centre. By this time, Sandy had decided he wanted a career that was in some way related to sport or fitness, so one of his placements was arranged to be at The Pickaquoy Centre.
Sandy finished on the Employability Fund in August 2015 and shortly afterwards manage to pick up some part time hours at The Pickaquoy Centre as a Lifeguard. Sandy has now worked at the centre for around thirteen months, during which time he has seen his hours increase to somewhere closer to full time.
Sandy was approached by his employer to discuss the opportunity to complete a Modern Apprenticeship (MA), and he is now delighted to be starting his MA at Level 2 in Sport, Active Leisure and Operational Services. Sandy sees this as his employer offering a commitment towards his future employment and potential advancement within his job role. Sandy is excited about the prospect of learning more about the job. Sandy commented that, because of the units he and his employer have chosen for him, he will now have the opportunity to work with staff he would otherwise not work alongside and will learn how other areas within the centre operate. He said that completing the MA will give him a better understanding of his job and The Pickaquoy Centre as a whole.
Quotes
"My employer and me discussed what units would best suit my job role".
"Working and studying with my friends and colleagues is a good thing".
"I am getting a wider understanding of how other areas of the Picky Centre work".
"Because of the units I chose to do, I am getting the chance to work alongside staff members I wouldn't normally work with".
"Earning money whilst gaining a qualification is a great way to study and learn more about the job you do".

Sandy's employer
Pickaquoy Centre, Kirkwall, Orkney
Amanda Spence, HR Officer, The Pickaquoy Trust:
"MAs are a way to promote staff retention and ensure our staff have the skills they require for the business to run smoothly".
"The whole apprenticeship scheme helps our young employees underpin The Pickaquoy Centre's company values of communication, team working and customer focus".
"The main challenge was getting the whole thing off the ground but the support offered by Orkney College has helped this process greatly".
"Employing MAs on a regular basis presents an attitude of being an employer of choice for Orkney's young people in order to promote them developing and using their skills within the county".
Case study - Theresa Sandison content
Case study - Theresa Sandison
Case study - Theresa Sandison
MA Level 2 - Professional Cookery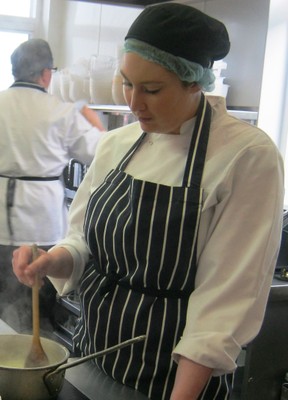 Theresa Sandison grew up at her parents' home in Westray as part of a family of four and from an early age thought she would like to be a primary school teacher. Choosing not to travel to the Orkney Mainland to complete her schooling, Theresa remained at Westray Junior High where she left with eight Standard Grades at Credit and General level. Theresa likes to play piano, listen to music, play netball, cook and socialise with family and friends.
At the age of thirteen, Theresa began a part time job at the Pierowall Hotel, Westray, as a waitress to earn herself a bit more pocket money. At this point Theresa still very much thought she would continue studying to become a teacher after leaving school. However, after a few years working at the hotel, Theresa's employer suggested she should try some time working in the hotel kitchen where she discovered a flair for cooking.
Theresa continued to work at the hotel after leaving school and shortly afterwards her employer, Alison Drever, was introduced to the Modern Apprenticeship (MA) programme through a mailing that went out from Orkney College UHI. Alison thought that this would be a good option for advancing Theresa skills and career prospects so contacted the college for more information. Shortly afterwards Theresa was enrolled at Orkney College UHI and was studying an MA Level 2 in Professional Cookery. Eight months on and Theresa is well on her way to completing her MA. Theresa is planning to continue next year by going on to study Professional Cookery at MA Level 3.
Theresa thinks that studying in this way is great because you don't need to apply for student loans, bursaries or course fees as MAs are currently funded by Skills Development Scotland (SDS). Theresa would recommend the MA route to anyone thinking to undertake vocational training as apprentices are able to earn money working in the industry they are studying. The day release aspect of the study helps with professional development. Attending college allows Theresa the opportunity to experience cooking in a different environment along with MAs from various catering establishments around Orkney. Theresa can then take techniques she has learned at college and from her fellow MAs back to her employer to enhance the service the Pierowall Hotel can offer their clients.
Quotes
"Studying a Modern Apprenticeship takes the worry out of how you will finance your studies".
"You get to learn lots of new techniques that you can then take back to your job".
"I have enjoyed meeting new people through attending Orkney College".
"Modern Apprenticeships are a good opportunity to improve your skills through learning to cook in a different environment to where you work".
"Being a Modern Apprentice is making me a better cook".
Theresa's employer
Alison Drever, Pierowall Hotel (Owner)
The Pierowall Hotel is a small family run business situated on the island of Wetray, Orkney. Located on a small community based island, the hotel offers a service to the six hundred local residents and visitors. The hotel has six bedrooms and can operate on a full or half board basis depending on the needs of its customers. The hotel has a bar with a friendly atmosphere that can be used by customers and locals alike and offers meals and snacks all day.
Westray is home to the famous Orkney Venus, known locally as the Westray Wifie, the oldest known man made figurine and has much to offer those who choose to visit. Interesting sights include Noltland Castle, Castle o' Burrian, two art galleries, Westray Heritage Centre and the world's shortest commercial flight between Westray and Papa Westray. The flight is scheduled at approximately two minutes but can be as short as forty seven seconds.
The Pierowall Hotel is over 100 years old and has been under its current ownership since 2008. As business owners, Alison and Alan Drever continually aim to improve the service they offer to make an island visit attractive to those who have never experienced island life. This goal has in part been influenced through involvement with Modern Apprenticeships (MAs). The business currently has one MA, Theresa Sandison, but Alison and Alan hope to add to that in the coming academic year, 2015 – 16.
Quotes
"MAs receive a vocational qualification at the end and experience good social interaction both with tutors and other employees".
"We have to juggle work shifts to accommodate the travel to and from Orkney College. However, the College have been extremely helpful with travel arrangements, making an MA possible for students living in the outer Isles".
"I see a huge difference in the confidence and approach of Theresa".
"The business benefited through funded training at Orkney College and the whole idea seemed too good an opportunity to miss."
"My experience has been good sharing in Theresa's commitment and enthusiasm over the past year."
"I would recommend any business looking to employ an MA as a great opportunity in enhancing your organisation with young enthusiastic staff, and very importantly, at practically no cost to the employer - how good is this?"
"I am very grateful to Orkney College and their staff for providing an excellent standard of training."
"The benefit to us as employers are good training and social experience for employees, and a more experienced and confident staff."